Corporate End-of-Year events, Christmas markets, team gatherings - many of our favourite events of the year are being cancelled again. Here is a 5-step plan on how to organize a virtual christmas party for your team or company even on short-notice.

1. Define the goals of your end-of-year event
Before going into the details, think about the overall goal of your team gathering. Is it to celebrate the success of a solid business performance, to get the team ready and motivated for the upcoming year, or to bond amongst teammates? The goal will be defining for the agenda of the event. We recommend a mix of the above and have drafted a sample agenda for you.
Opening and welcome notes

Business Update and Outlook for 2022

Fun and Games

Open Networking
For many of us, the end of the year is often a time to reflect and to be grateful. Keep that in mind when setting your agenda and as a leader, make sure you show gratitude to your staff by hosting a (little) celebration.
2. Choose the virtual venue
Zoom, Webex and MS Team are often the video-conferencing tools of choice for the day-to-day communication in many corporates and other organizations. It is possible, to use these tools also for a virtual team gathering and it has the benefit that everyone knows how it works and should be able to find the unmute button. However, keep in mind that these tools will always be associated with work and not necessarily with a celebration. Most physical team gatherings are also not taking place in the office at the usual desks because it is a chance to get to know each other better in different settings.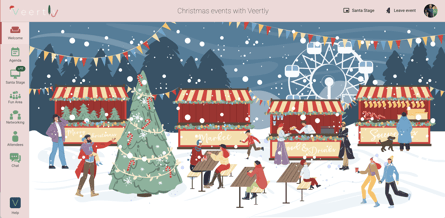 Hence, we clearly advise to choose the virtual venue wisely and ideally choose an online event platform that gives you a different setting and ideally offers a set of features that allows you to host a fun and engaging christmas party online. Learn more about ideas how to make that happen with Veertly by embedding games and having live shows here. Platforms like Veertly are also able to create a magical christmas feeling when entering by using virtual event maps and playing Christmas songs.
3.

Set-up the virtual venue
Make sure you plan sufficient time to get to know the platform you are using and to set-up the event to make it festive. At Veertly, we make it extremely simple for you to get started and to set-up your event in under 5 minutes.
Download this event template (.json file) with a pre-set Christmas theme, break-out rooms and games.
Upload your company logo, adjust the look and feel to your brand and edit the event to fit your needs.
4. Invite your employees or colleagues and team
Write an invitation text to excite your colleagues and staff to attend your virtual Christmas event. When using Veertly, you can simply use the email invite template and enable the registration form to track who subscribes to attend. Next, send the invitation to all employees and block the calendar to make sure everyone has the time secured to attend.
5. Have fun
An experienced moderator helps to keep a high engagement level and guide through your virtual Christmas event. Most importantly is to create a good atmosphere, have some fun, maybe a few drinks and to connect virtually while staying save.
---
---
--------------------------------------
We have many, many more ideas to make your virtual Christmas Party a special one this year! Book a personal demo to learn more. We can also support you with hybrid Christmas events!