Whoop whoop. We are stoked to present to you a new fantastic functionality on the Veertly platform that opens up endless possibilities for all event organizers to engage with their audience. Excited to learn more? So are we!
People are calling this feature 'Zoom killer', the 'Slack of online events' and much more. But check it out for yourself…
To get a quick overview of all apps that we have tested till today, have a look at this list of apps.
What is 'apps' and how does it work?
You can now integrate apps into your rooms in a Veertly event. Meaning, your attendees can use different web-apps at the same time as they are talking with the other participants.
How can I add an app?
To add a new app to your Veertly event, simply click 'Create room' or edit an existing room and click on '+Advanced configuration'. In this expanded pane, click on the button 'Add app'. A new window appears and offers you two fields:
App Name: Enter the name which should be displayed to other attendees


App URL: Enter the URL of the application that you would like to embed. Please note that if available, you need to use the URL that allows embedding the app.
For detailed instructions, please watch our explainer video.
If you are a pro user, you can even configure some advanced attributes to embed the iFrame the way you want it.
What is the benefit of adding apps?
Everyone is being invited to dozens of webinars every single week. While this can be very informative, many attendees are getting bored quickly and are losing their attention. The magic key to differentiate your event, workshop, or webinar from others is ENGAGEMENT. Surprise your event audience by offering completely new ways to engage with yourself, other attendees, and potential sponsors.
When creating the room, you can decide whether you only would like to show the app or if you also want to have a video call in this room. Furthermore, you can change the order of the apps within a room.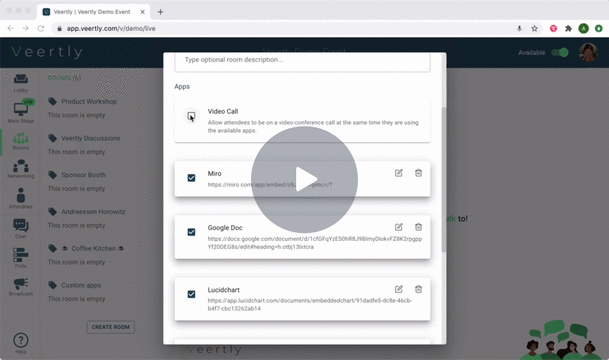 With apps, you can be creative and let your imagination run wild. Embed collaborations tools (docs, whiteboarding solutions), online games, websites, videos, and live streams, a virtual 3D tour through your office, or even add the menu of your favorite food delivery service!
Which apps can I integrate into Veertly?
We are still in the midst of testing out what apps work best within Veertly. In general, we do not have any restrictions on our side, but your favorite app provider might not allow you to embed their service into a third-party solution. Here is a selection of services that are working great!
Video streaming
Youtube, Vimeo, and more: Embed your favorite video into your Veertly room. Learn more about how to embed a YouTube video here.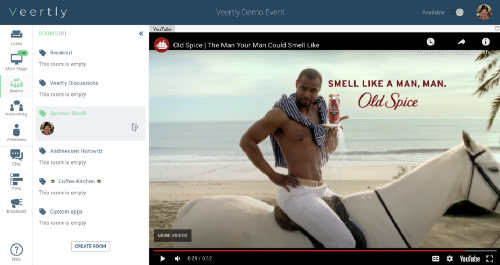 Make sure you are using the 'Embed' code and not simply the video URL.
This can be used to have videos of your sponsors in their sponsor booths, to embed a livestream to leverage rooms as additional stages, to have a little dance session to wake up your audience, and much more…
Collaboration tools
Google docs / sheets: Work together on the same document with your colleagues while being on a video call at the same time.
Simply copy the URL of your Google doc or sheet and enter it into Veertly. This is fantastic for workshops, open formats like barcamps with a modular and living agenda, daily or weekly stand-up meetings as well as review and strategy sessions. Make sure, your colleagues have access to the document or make it publicly available as the same security and sharing rules apply as when using it outside of Veertly.
Conceptboard / Miro / Lucidchart: Digital whiteboarding and visualization solutions have become a key tool for all teams working remotely. You can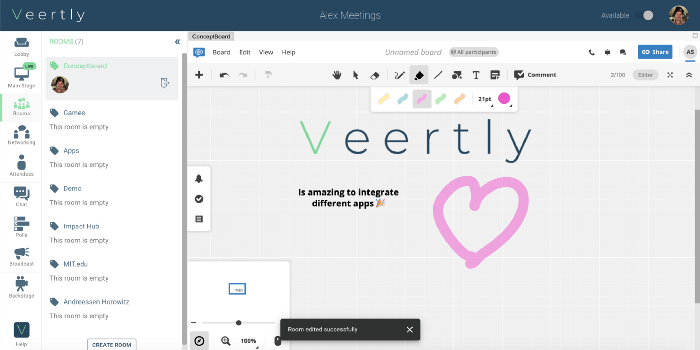 integrate your favorite tool into a Veertly room for efficient workshops and team sessions, but also creative brainstorming and process definition work!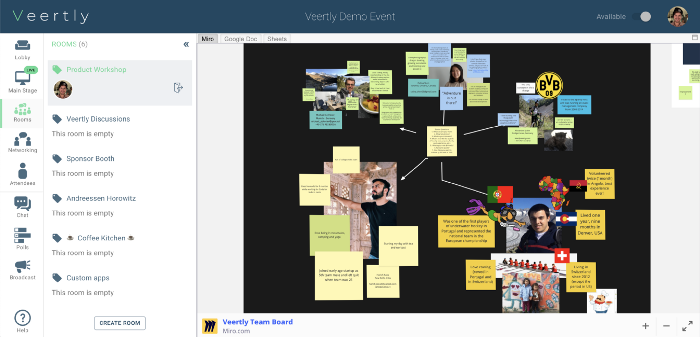 When on your 'board' click on share and then 'embed' to get the correct link that can be embedded in Veertly. See here for more information.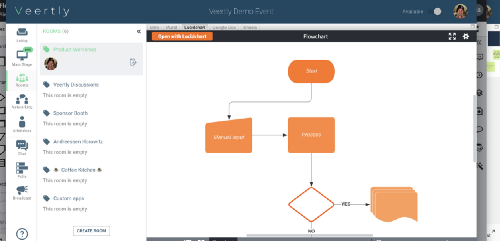 The integration of Conceptboard works perfectly, you and your attendees can use all functionalities as you would directly on their platform. For Miro and Lucidchart the embedment is working with the free version so that the attendees can view the board without leaving Veertly. But in order to directly editing the whiteboard a paid plan is required.
Polls and audience engagement
Mentimeter: Within Veertly, you already have the option to create simple polls and let your audience vote on it. If you prefer more sophisticated poll options, like creating tag clouds or prioritizing the different response options, you can now integrate Mentimeter.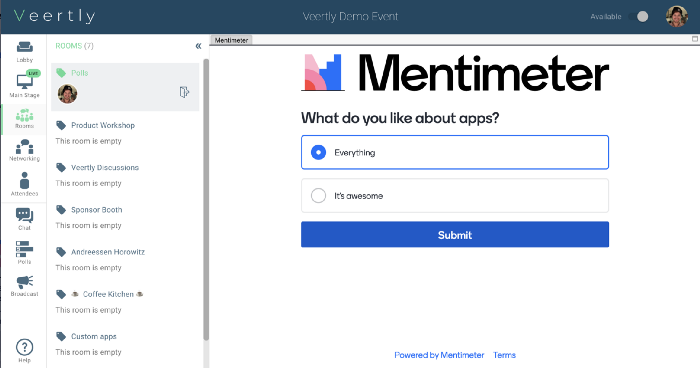 Games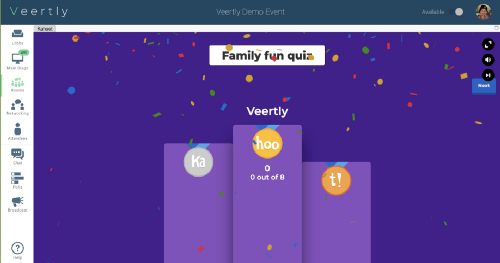 Kahoot: This is a fun quiz game to drive higher audience engagement and add some gamification elements to your event! Create a quiz about the topic of your event or your sponsors and give the winners a little prize. Simply include the URL of your Kahoot quiz into Veertly and let the fun games begin!
Other ideas
The sky is the limit for this feature. Be creative and we are excited to hear from you what you have integrated into your events! Here are some more ideas:
Food delivery services:

Are you having a full-day workshop? Embed the website or menu of your favorite food delivery service and make sure that all employees are energized for the afternoon!


Meeting booking tools: This is especially interesting for sponsors to secure some follow-up meetings with the interested event attendees.

Calendly

is our favorite booking tool which looks very smooth within the Veertly platform.




3D Virtual office tours: Although the event is held digitally, you might still want to show your attendees your offices, production plant or innovation lab. Give them a virtual 3D tour through your office.


Feedback forms: Do you want to get feedback from your community about your speech, your product, the event or anything else? Simply integrate your form into a room and the attendees can submit it without having to leave the platform. Check out

mOpinion

and the like.




Virtual photo booths: In the past years, photo booths were a must-have for a fun team event. We bring this engaging experience to your next digital event by embedding services like

Cosmo

to create photos, boomerangs, or even gifs!


Websites: Add the landing page of your sponsor into a booth or you add your event website so that your audience can always check any background information about the event.




Fun video-solutions: Yes, you have read correctly. Within Veertly you can embed your favorite video-conference tool within a room. Whether it is

Yotribe,

Rally, or

Retrolution. This enables to host fishbowls, sub-rooms and to have other funny ways to interact with other attendees.
This functionality is opening doors to a new world of online events and video-conferencing. But this is only the beginning. We can't wait what you are going to integrate into your event! Please comment below :)
Learn even more about the limitless opportunities to embed Zoom, Wonder, Padlet, and many more applications into Veertly here.
Get in touch with us via info@veertly.com, test our Veertly live demo or create your own event here.