Last week, we celebrated our own virtual Christmas party on Veertly. We had a lot of fun and the event was a huge success, which is why we want to share some more details here in our blog.

We started with a warm welcome from the evening's hosts, two members of our team who had prepared the entire event in advance. After everyone had arrived, we were ready to begin with the program.
Christmas Quiz
Our first program item was a Christmas quiz. We used Veertly's tagging function and divided the team into three distinct groups. The tool enables you to tag participants and create a new chat for the members in the tag group. This allowed us to exchange thoughts on different questions before giving our final answers to the moderators without interrupting each other constantly. And let's be honest, would you know the answers to "Where does the song silent night come from?" or "Where does the Grinch live?" right off the bat?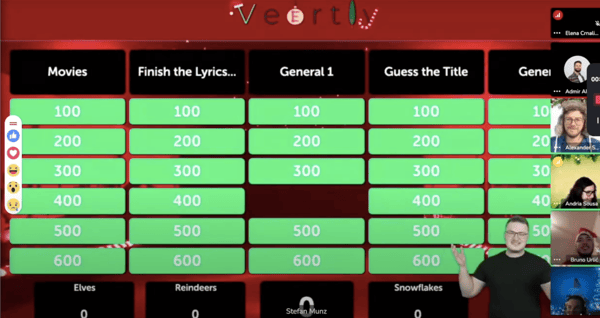 #Bestmoments
Following the quiz, we had a short #bestmoments session where we watched a video of various clips and snapshots from 2021. It is important to reflect on the progress we have made personally and professionally at work, and the end of the year is the perfect time to do so. Therefore, after seeing the video, we took a few minutes to create a virtual pinboard with the best moments we had at Veertly this past year.
Playing Fun Games
Afterward, we continued to play games and take fun photos in our virtual photo booth. For this purpose, we had set up a small gaming area with various third-party integrations which let us play games and stay in a video chat at the same time. Everyone could individually choose which games they wanted to join simply by entering different breakout rooms. We believe that games and other fun activities are fantastic for engaging with coworkers at team events and we make it a point to incorporate them into our programs.
Joint Dinner
To finish off the evening, we ordered some food and enjoyed our dinner while playing games and chatting together. Sharing meals with your team is another great way to break up your event and help your team members build better relationships through genuine conversations.

Overall, as you may have noticed, we combined some friendly competition with moments of team bonding. Both parts should be included for a well-rounded event experience. Do you have any further suggestions or questions you'd like to share? Don't hesitate to reach out to our customer success team and get in touch.

Until then, we wish you a wonderful holiday season!