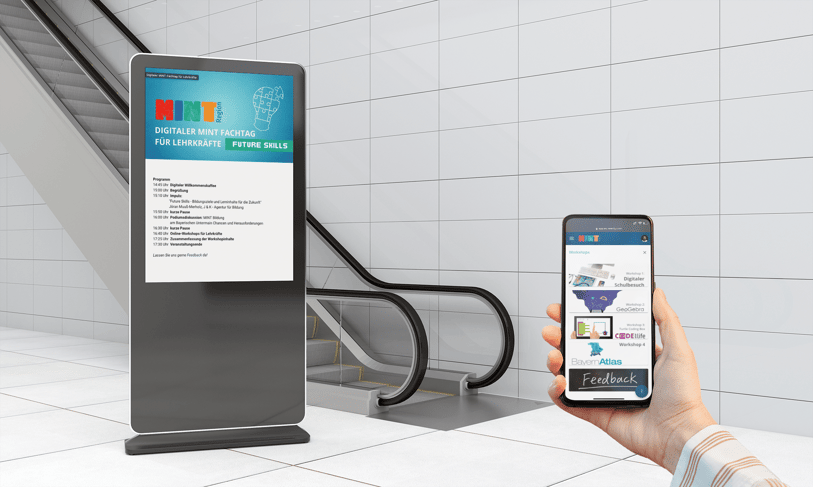 There are a variety of apps and tools that help event organizers plan and execute their online events. In this article, we will introduce you to different types of event apps, their features, and what we consider to be the best online event app providers. Afterwards, you will learn about the advantages and disadvantages of special mobile apps for events.
What are online event apps?
Whether physical or virtual events, the planning, execution and evaluation of events is usually very time-consuming. Fortunately, since digitalization has not stopped at the event industry, there are many apps and tools that make the work of event organizers easier. Here are some of the most common types of event apps. Some providers, such as Veertly, combine several of these apps into an all-in-one event platform.
Event management apps: These event planning apps allow event organizers to plan, organize and manage events from start to finish. They offer features such as agenda management, attendee management, registration and ticketing, reporting and more.
Examples: Veertly, Eventbrite, Cvent
Networking apps: These apps provide a platform for attendees to connect and network with each other. They offer features such as matchmaking based on various criteria such as interests, spatial audio, chat features, screen sharing and in some cases games.
Examples: Wonder, Remotely.Green, HyHyve, Veertly
Mobile event apps: These apps are designed specifically for mobile devices such as smartphones and tablets and offer features such as agenda management, location maps, attendee management, registration and ticketing, and social media integration.
Examples: Attendify, Eventmobi
Live streaming apps: These apps allow event organizers to live stream events on various platforms such as YouTube, Facebook and Twitch. They offer features such as audio and video streaming, virtual streaming studio capabilities such as banner embedding, commentary as well as moderation features and the ability to record events.
Examples: Restream, Streamyard
Engagement apps: These apps are designed to actively involve attendees in the event and encourage higher engagement. They offer features such as polls, surveys, Q&A, and feedback functions so that attendees can interactively participate in the event and organizers:and speakers can get immediate feedback from the audience.
Examples: Slido, Mentimeter, Pigeonhole Live
Virtual reality apps: These apps use virtual reality technology to provide attendees with an immersive experience and make them feel like they are physically present. They offer features such as VR glasses, 3D models, virtual locations and interactive elements.
Examples: EXP360, Matterport, VRIFY
Gamification apps: These apps use game-like elements to motivate participants and keep them engaged. They offer features such as scoring, leaderboards, competitions, and rewards.
Examples: Kahoot, Quizbreaker, Gomada

This list is not exhaustive and there are many other types of apps designed specifically for the event industry. Choosing the right app depends on the needs and goals of your event. Some online event platforms allow you to integrate the aforementioned apps to provide additional services to your customers. Veertly has developed an App Marketplace for this purpose that shows some integration possibilities.
The most important functions of online event apps
In this section, we focus on the features of all-in-one apps for running online events. The features you need will logically depend heavily on your goals for your event. Provided you already have ideas for your online event, here we present some of the most important features that online event apps offer:
Streaming video and audio
Online event apps allow attendees to participate in live streaming events and watch live presentations and talks from experts and other speakers. The apps also offer the ability to record audio and video files and watch them on-demand later.
Interactive functions
Interactivity is an important part of any event, and online event apps offer many ways to ensure that attendees are engaged and interactive. Especially on PCs, attendees are presented with numerous distractions, making it all the more important to actively involve them in the event experience. In addition to simple chat and survey options, some platforms also offer the possibility to work collaboratively on a digital whiteboard or explore a virtual 3D world during a workshop. Interactive options for bilateral exchanges through networking functions are also very popular and offer added value to guests.
Registration and ticketing
Online event apps also offer organizers the ability to integrate registration forms and ticketing features to facilitate event participation. Attendees:can conveniently purchase tickets and register for the event or even individual sessions without having to be physically present.
Analytics and Reporting
Detailed analytics and reporting features have become part of the standard repertoire of a solid online event app to help organizers measure the success of their event. In addition, past data can be used to derive relevant learnings for subsequent events. Apps offer insights into attendance, attendee interactions, content popularity, and more.
In summary, online event apps offer a variety of features and tools that enable event organizers to successfully plan and execute virtual events. From live streaming and interaction features to registration and ticketing capabilities, online event apps can help make your next virtual event a success.
The Best Online Event Apps
The Covid-19 pandemic has forced the event industry to shift to virtual events. This has also changed the way events are planned, organized and executed. Event apps have emerged as an indispensable tool for planning and executing online events, and vendors have been wowing organizers and guests with numerous innovations in recent months. Here are some of the best online event apps currently on the market.
Veertly is an all-in-one platform for organizing virtual events. The app describes itself as a Swiss Army Knife for online events and stands out for its flexibility to cover a wide variety of use cases (including conferences, trade shows, workshops, town halls), as well as the ability to personalize the platform and fully customize it to your brand in terms of branding and corporate identity. Veertly is easy to use and allows event organizers to create their events quickly and easily. The platform is also intuitive for attendees to use.In addition, Veertly's customers appreciate that the servers are located in the EU (mostly Germany) and that their privacy requirements are met by the platform.
Hopin is a provider that covers everything from A to Z. From ticketing and badges for physical events, to streaming and event marketing, to video hosting, Hopn offers solutions. Capable of supporting events with thousands of attendees, Hopin offers a range of features that allow event organizers to plan and execute their events effectively. The platform also allows for many custom settings to tailor the event to your own needs.
Airmeet calls itself the "world's first Event Experience Cloud (EXC)" that helps people come together from anywhere. The event app enables its customers to create immersive event experiences and valuable "connections" among attendees. In doing so, Airmeet relies on a highly visual user interface where you can move around with your own avatar. In addition to streaming studio functionalities, Airmeet also offers detailed evaluations and insights into the events held.
Talque is an event app that supports online events as well as hybrid and purely physical events. The platform was developed specifically for organizing business events and offers a wide range of features, including networking tools, an interactive agenda as well as calendar integration, and virtual exhibitor booths. The main event types for which the Talque platform was developed are conferences, trade shows and festivals.
Cvent is a long-established provider of comprehensive event management solutions and apps for physical, hybrid and virtual event formats. The focus is on trade shows and conferences. In addition to the event platform with numerous features such as the ability to create virtual event layouts and lead capturing capabilities, Cvent also offers solutions for event marketing as well as for hotels and venues, i.e. the entire MICE industry.
Choosing the right online event app depends on the needs and goals of your event. Each of the apps mentioned here offers a wealth of features that can help event organizers successfully plan and execute their events.
The advantages and disadvantages of mobile event apps
In addition to the obvious advantages of virtual event platforms, mobile event apps have also become increasingly popular with the rise of hybrid events. We took a closer look at what are advantages but also disadvantages of these mobile apps.
Advantages of Mobile Event Apps:
Advantages of Mobile Event Apps: Accessibility: with a mobile event app, attendees can access all the relevant information and resources they need to participate in the event with just a few clicks, regardless of their location or time.


Personalization: Mobile event apps enable organizers to create personalized event experiences for attendees by providing personalized agendas, recommendations, and notifications based on attendees' individual interests and preferences.


Interactivity: A mobile event app can facilitate interactivity at events by providing features such as polls, Q&A, live polling and social networking. This allows attendees to actively participate in the event and connect with other attendees.


Efficiency: By providing real-time updates, push notifications, and resources, mobile event apps can reduce organizational overhead and increase event efficiency.
Disadvantages of mobile event apps:
Accessibility:

What is an advantage for some people is a disadvantage for others. The fact that you have to install yet another app on your mobile device just to participate in an online event is a major hurdle for some attendees. Instead, they would prefer to participate in the virtual event via a mobile-optimized website. In addition, companies may prohibit their employees from installing certain apps on company devices.

Costs:

The creation and maintenance of a mobile event app can be associated with high effort and costs, especially if it is developed individually or has to be managed separately in addition to the online platform.

Technical issues:

If the app is not well developed or tested, technical issues and bugs can arise that can affect the user experience and lead to frustration.

Privacy and security concerns:

Mobile event apps can also raise security and privacy concerns, as they sometimes store sensitive data such as personal information, credit card details, and other sensitive information. Because each app must be developed and tested specifically for each operating system, bugs may be more common than if one platform were developed for all devices.

Dependence on mobile devices:

Mobile event apps are only accessible to those who own a mobile device, which means some attendees may be excluded if they don't own a smartphone or tablet unless there is a browser-based option.

Mobile event apps offer many benefits for event planners and attendees, but there are also drawbacks that need to be considered. It is important to carefully weigh the pros and cons to decide if the online event platform needs to offer a mobile app or if a browser-based solution optimized for mobile devices is preferred.
-----
---
Overall, online event apps offer a variety of functions and tools that enable event organizers to successfully plan, implement and evaluate virtual events. From live streaming and interaction features to registration and ticketing capabilities, online event apps can help make your next virtual event a success. Especially for hybrid events or event target groups that do not have access to PCs and laptops, it is also important to consider the pros and cons of specific mobile apps for events in order to choose the right platform for your needs.