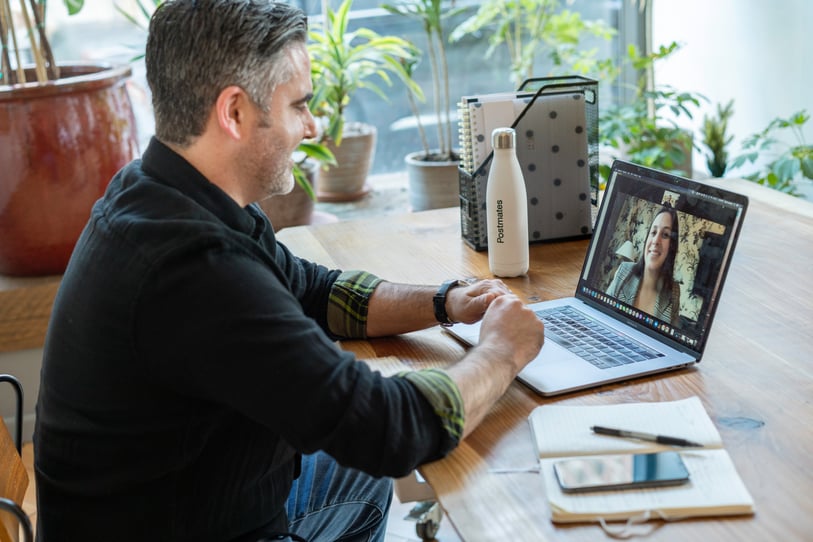 Online conferencing has become an indispensable part of the business world, especially in this age of flexible remote working and social distancing. A well-organized online conference can be a powerful tool to expand your company's reach, capture the attention of potential customers, and strengthen your brand. Here are some proven tips and best practices to ensure your next online conference is a success.
What are online conferences and how do they work?
The rapid evolution of technology and digital communication tools has fundamentally changed the way we work, learn and network. Online conferences are a prime example of this change, offering numerous advantages over traditional face-to-face events. In this section, we will look at the definition of online conferencing, highlight its benefits, and explain how it works.
Definition of online conferences
Online conferences, also known as virtual conferences, are events that take place over the Internet and allow people to meet, share knowledge, and collaborate from around the world without being physically present. This type of conferences can include various formats and content, such as lectures, discussion panels, workshops, networking sessions or product presentations.
Advantages of online conferences
The characteristic that conferences are conducted digitally and not physically brings numerous advantages. Here are the main advantages of online conferences compared to traditional conferences.
Cost-efficiency: Online conferences reduce costs for organizers and participants, since no travel and accommodation costs are incurred and fewer resources are needed for organization.
Flexibility: Because participants can attend from anywhere in the world, online conferences offer greater flexibility in terms of time, location and availability.
Environmental friendliness: By reducing travel and the associated CO2 emissions, online conferences contribute to a smaller ecological footprint.
Extended reach: online conferences enable a wider audience to be reached by overcoming geographical and time barriers.
Accessibility: online events can be more accessible than face-to-face events for people with physical limitations or other challenges.
How do online conferences work?
Technical platforms: Online conferences are based on digital platforms that enable audio, video and text communication. Veertly is an example of such a platform that is specifically tailored to the needs of online events.
Registration and access: Participants usually register in advance for online conferences and receive an access link or login information to join the event.
Interaction: Platforms for online event offer various opportunities for interaction and collaboration, such as live chats, Q&A sessions, polls or breakout rooms for smaller discussion groups, among other benefits. Depending on the platform, there are even more opportunities for interaction.
Recording and replay: many online conferences are recorded and made available to attendees after the fact, allowing them to catch up on content they missed or review information presented.
Online conferencing is a useful and effective way to create a virtual community that encourages participation and engagement. By using online tools, companies and organizations can hold virtual conferences and events that allow participants to communicate and interact effectively

What types of online conferences are there?

In our digitalized world, online conferences are an indispensable tool for bringing people together from all over the world, sharing knowledge and strengthening business relationships. Thanks to platforms like Veertly, organizing online events is easier than ever. In this section, we will introduce you to different types of online conferences to help you decide which one best suits your needs.
Webinars
Webinars are online events where one or more speakers present a topic and share their knowledge with participants. They provide a great way to reach a broad audience and share expert knowledge. Webinars can be offered either live or recorded and are often interactive, integrating Q&A sessions, polls or live chats.
Virtual conferences
Virtual conferences are larger online events that include multiple presentations, workshops, discussion panels, or networking opportunities. They can last one or more days and offer attendees the opportunity to engage in a variety of program topics. Virtual conferences are similar to face-to-face conferences, but offer the advantage of flexibility and cost-efficiency because there are no travel or accommodation costs.
Virtual trade shows
Virtual trade shows are online events where companies can showcase their products or services and reach out to potential customers. Similar to physical trade shows, there are virtual booths where visitors can gather information, watch presentations, or interact directly with exhibitors. Virtual trade shows can include interactive elements such as chats, video calls and networking rooms to ensure an enjoyable experience for attendees.
Hybrid events
Hybrid events combine aspects of face-to-face events with online elements. Attendees can either be physically on-site or connect virtually. Hybrid events offer the best of both worlds: the face-to-face interaction of in-person events and the flexibility and reach of online events. However, they also require a bit more organization and cost.
Online workshops and trainings
Online workshops and trainings are interactive events where participants can learn new skills or deepen existing knowledge. They are often smaller than webinars or conferences and offer more intensive, individual support. Online workshops and training can take place in a variety of formats, including live video courses, interactive learning platforms, or even virtual classrooms. Some event platforms allow, for example, the integration of digital whiteboards or the possibility to download workshop documents directly via the platform.

For concrete ideas on how to host successful online events, check out this blog article.
How to organize a successful online conference
Organizing a successful online conference can be a challenging but rewarding task. Compared to traditional face-to-face events, it requires special planning and adjustments to create an engaging, informative and interactive experience for attendees. In this article, we present steps and tips to help you organize a successful online conference.
Step 1: Define your goals and target audience
Before you start planning, you should determine the goals of your online conference and define the target audience. Do you want to impart knowledge, promote networking and build a community, or showcase products? The answer to this question will influence the format and content of your event.
Step 2: Choose the right platform
Choosing the right online event app is critical to the success of your online conference. Make sure the platform offers features like video and audio communication, live chats, Q&A sessions, polls, and breakout rooms. Veertly is an excellent option as it is specifically designed for online events and provides many of these features.
Step 3: Plan the program
Design an engaging program that meets the needs of your target audience. Consider different formats such as lectures, panel discussions, workshops, or networking sessions. Provide breaks between program items, avoid overly long lectures, and encourage interactions to keep participants' attention.
Step 4: Select competent speakers
The quality of your speakers has a major impact on the success of your online conference. Make sure to select competent experts who are able to deliver engaging and informative presentations. Also consider their experience in participating in online events and their ability to interact virtually, as it makes a big difference whether you're speaking in front of an audience in a hall or into a camera in your own office.
Step 5: Promote your event
To ensure a successful online conference, it's important that you promote your event effectively. Use email campaigns, social media, affiliates, and targeted advertising, such as via ad campaigns, to reach your target audience and invite them to attend your event.
Step 6: Prepare your speakers and presenters.
Make sure your speakers and presenters are well prepared for the event by providing them with technical information, schedules and procedures. Conduct tech tests in advance to avoid technical issues and give speakers a chance to familiarize themselves with the online event platform.
Step 7: Provide interaction and networking opportunities
A successful online conference should include interactive elements to encourage attendee engagement and create a more personal experience. Use live chats, Q&A sessions, polls and breakout rooms, or integrate digital whiteboards to allow participants to ask questions, share opinions and network with each other.
Step 8: Technical support
For larger events or audiences that may not be tech-savvy, provide technical support during the event to quickly troubleshoot problems and ensure a smooth experience. Inform your participants about the technical requirements in advance and provide them with instructions, tutorials or technology checks if necessary.
Step 9: Gather feedback
After the online conference is before the online conference. Therefore, it is important to gather feedback from participants, speakers, and partners. Use surveys or feedback forms to gather opinions and suggestions. Many event platforms offer features to collect this feedback automatically. This will help you further improve future events and address the needs of your target audience.
Step 10: Follow-up and follow-up
Following up on an online conference is just as important as planning and executing it. Make sure you provide participants with materials such as presentations, recordings, and contact information to reinforce what they learned and maintain the connections created among participants. Be sure to follow appropriate privacy guidelines when doing so. Also, use your own insights or your team's input and the feedback gathered from participants to make future events even more successful.

Organizing a successful online conference requires careful planning, the selection of a suitable platform, engaging content and dedicated speakers. With the right strategies and tools, such as Veertly, you can create an engaging, informative and interactive experience for your participants that will ensure the success of your event.
More tips and best practices
Organizing successful online conferences is an art in itself. While we've covered basic steps and tips for planning and running online conferences in a previous post, in this one we'd like to share more tips and best practices to help you take your virtual events to the next level.
Make sure your design is appealing
The visual appearance of your online conference is of great importance. Invest time and resources in an engaging design that reflects your brand and the character of your event. For example, design custom backgrounds for presentations or virtual rooms to ensure a consistent and professional look. And choose a platform that allows you to have the entire event appear in your corporate colors and where you can showcase your logo.
Make it easy for participants to get started
A smooth entry into your online conference is critical to a positive attendee experience. Ensure that access to the event is simple and straightforward e.g. via 'Magic Link' which does not require a separate login, and provide detailed instructions on how to use the platform. Ideally, attendee:s will not need to download separate software but can participate voa browser. If needed, you could also create introductory or welcome videos that explain key features and processes to participants.
Encourage interaction and engagement
High levels of interaction and engagement among attendee:s are critical factors in the success of your online conference. Encourage your speakers to incorporate interactive elements such as live polls, quizzes, or collaborative tasks into their presentations. Also, use networking tools such as breakout rooms or virtual coffee breaks to give attendees the opportunity to share and network.
Use dynamic and varied content
Online conferences can be tiring for participants, and the PC offers numerous opportunities for distraction. To keep their attention, focus on dynamic and varied content. Combine different formats such as lectures, discussion rounds, workshops or live demonstrations and make sure that the duration of the individual program items is not too long.
Make your online conference accessible
Accessibility is an important aspect of organizing online conferences. Make sure your event is accessible to people with physical limitations or special needs. This includes, for example, providing subtitles, sign language interpreters or an accessible user interface.
Leverage analytics and data tracking
Using analytics and data tracking tools can give you valuable insights into your attendees' behavior and preferences. For example, track attendance, length of participation, or interactions during your online conference. This data can help you optimize your event, better align future content, and increase attendee satisfaction.


Organizing a successful online conference goes far beyond simply providing a digital platform. By focusing on engaging design, accessible content, dynamic formats and interactive elements, you can create a memorable experience for your attendees. With these additional tips and best practices, you'll be well-equipped to take your virtual events to the next level.
Photo by LinkedIn Sales Solutions on Unsplash