During COVID, tools for virtual rooms and video conferencing popped up everywhere. Everyone needed to meet online, and startups were constantly outdoing each other with ideas for virtual meetings.

One of those tools is Wonder.me, an online tool that creates virtual rooms in 2D, allowing participants to interact with each other in a semi-realistic world. For those who remember Club Penguin, think of Wonder.me as Club Penguin for professional users: An alternative to the dull Zoom Meeting.

Now Wonder.me, like so many other startups, is sadly ending on April 25, 2023. The founders sent this email to all users in April: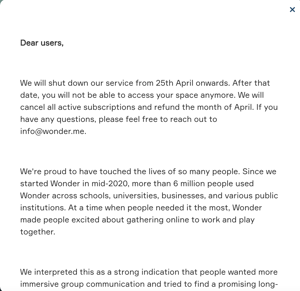 Fortunately, for all Wonder.me lovers, there are alternatives. We were long-time users of Wonder.me ourselves and decided to build a replacement feature in Veertly so you can continue to network in a familiar environment.
What are the alternatives to Wonder.me now?
The good news is that there are numerous providers with similar approaches besides Wonder.me. Below, we're listing the best tools for you:
1. Veertly: The flexible alternative from Switzerland
Costs: From €100/month
Website: https://www.veertly.com/
Veertly is a virtual event tool that is used for online conferences, workshops and other events. It offers a user-friendly interface that allows users to fully customize and personalize their event.
The latest Veertly feature now offers an alternative for Wonder.me users. We'd be happy to show you a demo of exactly how this feature works, and how you can map your event with Veertly.
2. HyHyve
Costs: From €0.03/minute per participant
Website: https://hyhyve.com/
HyHyve is a virtual meeting space that offers similar features to Wonder.me, such as video conferencing, virtual rooms and integrations. The main difference is that HyHyve works on all major browsers and mobile devices and is limited to 250 participants per room.
3. Remo
Cost: From $380/month
Website: https://remo.co/
Remo is a virtual event tool that allows users to host events and conferences online. It offers similar features to other meeting tools, such as video conferencing and virtual rooms, but with a focus on events and conferences.
4. Gather
Cost: Free of charge up to 10 users
Website: https://gather.town/
Gather.Town is a virtual event platform that allows users to create an interactive and personalized environment for their online event. It offers a 2D world that allows participants to move through spaces and interact with others in real-time. Gather offers features like custom avatars, chat tools, audio and video communication, and collaborative tools for attendees to work with. It is a great option for networking events, conferences, and virtual trade shows.
5. Workadventure
Cost: Free for up to 15 users
Website: https://workadventu.re/
Workadventure is a virtual office platform that allows users to interact with other participants in virtual spaces. It offers a unique experience that allows users to move freely in the virtual world and talk to other users.
6. kumospace
Cost: Free up to 10 users
Website: https://www.kumospace.com/
Kumospace is a virtual meeting tool that allows users to create personalized 2D rooms and hold virtual meetings and events. It offers features such as video and audio communication, chat tools, custom avatars, and collaborative tools that allow participants to work together. Kumospace also offers a screen-sharing mode and whiteboards for presentations and workshops. Kumospace's interface is simple and intuitive to use, making it a great option for small and medium-sized teams looking to hold virtual meetings and events.
7. campfire
Cost: n/a
Website: https://www.campfire.to/
Campfire serves as an informal meeting place for teams, where users can roam freely or join together in breakout rooms to socialize or play games. There are new activities every week, so you'll never get bored.
8. Kosy Office
Cost: Free for up to 5 users
Website: https://www.kosyoffice.com/
Kosy is a virtual office platform that allows users to work remotely and collaborate as if they were in the same office. A special feature of Kosy is the ability to hang out in virtual break rooms and chat with colleagues to promote informal interaction and a sense of community. Kosy is a great solution for companies and teams that work remotely and need a virtual work environment that allows them to collaborate on projects and communicate effectively.
What is Wonder.me?
Wonder.me is an online tool that offers virtual rooms and video conferencing for companies, organizations and individuals. It allows users to navigate virtual spaces, talk with other participants, and even participate in polls and voting.
Why is Wonder.me being shut down?
The reasons have not been disclosed.