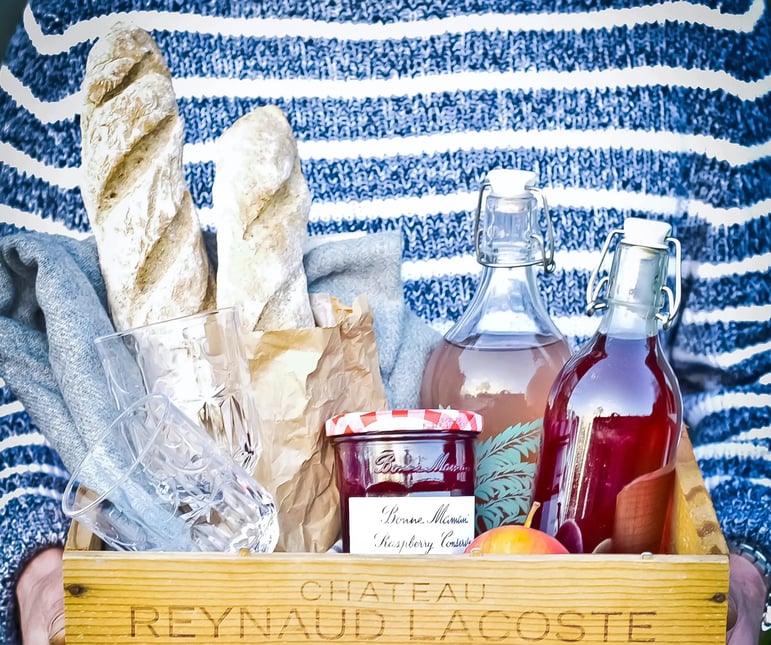 At Veertly, we know how important it is to come up with new and creative ideas for online events to keep attendees happy. One innovative way to spice up your next corporate event, online workshop or virtual conference is with event boxes. In this blog post, we'll introduce you to 7 special online event boxes that are guaranteed to wow.
Online Event Box Ideas
DIY Cocktail Box
Add a fun networking opportunity to your selected online event app by sending attendees a DIY cocktail box. The box contains all the ingredients and utensils needed to make a delicious cocktail yourself. Organize a live tasting during the event and give attendees the opportunity to share ideas and make new contacts.
Creative Online Event Box
Encourage participants' creativity during your corporate event by sending them a creative box. This can include painting and drawing materials, craft supplies, Lego Technic elements or even a small DIY project. Plan a joint creative session as part of your online event, where everyone works together on their projects and gets inspired.
Wellness Box
Give participants a little time out during your multi-day online event with a wellness box. Fill it with relaxing products such as scented candles, bath salts or aromatherapy oils. Plan a short break during the event or at the end of a busy event day, where everyone can relax with the contents of their wellness box.
Snack Box for Online Events
Make sure attendeesstay energized during your corporate event by providing them with a snack box. Choose healthy, high-energy snacks to keep energy levels high during the event. This can be combined with a lunch session on healthy eating.
Game and Quiz Box
Add fun and competition to your online event platform by sending participants a game and quiz box. This box can contain various puzzles, brainteasers, puzzles or board games. Organize a joint game round during the event, where the participants can prove their skills.
Local Treasures Box
Support local businesses and present regional products to participants in a "Local Treasures" box. Fill the box with food, crafts, or other special items from the region where your company is located to create a personal connection with participants and highlight your company's values.
Sustainable Online Event Box
Show participants that you or your organization cares about sustainability by sending a sustainability box. This can include eco-friendly products such as reusable water bottles, bamboo toothbrushes, or cloth bags. Take the opportunity to talk about conservation and sustainable practices during the event, and encourage attendees to implement them in their daily lives. In general, sustainability is playing an increasingly important role in the event industry.
Does Veertly offer online event boxes?
Veertly is a platform for virtual and hybrid events. Besides our excellent event software solution, we also offer excellent support from event conception to support during the event. We have not developed our own event boxes yet. However, there are several online event box providers in Europe that stand out for their quality, creativity and wide range of customizable boxes.
Online event box provider
Here are five well-known providers and partners of Veertly:
Wilson & Oskar: After-work packages for the upcoming team event, catering packages for the upcoming workshop or care packages for the participants of your virtual conference - Wilson & Oskar put together the right mix for every occasion and send the package directly to the participants of your online event.

Online-Event-Box.de is a European provider specializing in individual and customized event boxes for various occasions. They offer a variety of boxes, from corporate event boxes, catering and party boxes to onboarding and creative boxes. Their strength lies in their flexibility, both in how the boxes are put together and how they can be customized to fit the event and the needs of their clients.

SwagUp is another well-known event box provider that focuses on personalized promotional products and gift boxes. Although they are originally from the US, they also offer their services in Europe. SwagUp stands out for their user-friendly online design tool that allows customers to design their own boxes according to their ideas. They offer a wide range of products, from snacks and drinks to tech gadgets and eco-friendly items.

TheHappyBox.de started with the idea of sending a photo album that unfolds when the lid is opened and a three-dimensional DIY surprise emerges, putting a smile on every recipient's face. Meanwhile, the event box provider also offers other products.

HappySwag is a European event box provider that specializes in sustainable and eco-friendly boxes. They offer various boxes for different occasions, from corporate events to private parties. HappySwag places great emphasis on sustainability and only works with suppliers who are ethical and environmentally conscious. Their boxes contain products made from eco-friendly materials, and they offer options for vegan and gluten-free snacks.


JEach of these providers has its own approach and specialization, so it is worth comparing the different options to find the right online event box for your event.

Event boxes are a great way to take advantage of and enhance a virtual event and provide a unique experience for attendees. By integrating such boxes into your corporate event or online conference, you create an interactive and varied program that will delight the participants. The above ideas for online event boxes are just a few examples of how you can enhance your event. Be creative and adapt the content of the boxes to the needs and interests of your participants.

Remember that organizing and running successful online events relies on a powerful and user-friendly online event platform, like Veertly. At Veertly, we always strive to offer our customers innovative solutions and support in planning and implementing their events.
Photo by Margaret Jaszowska on Unsplash